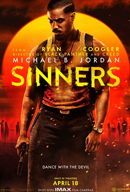 Director: Chris Sanders
Cast: Karen Gillan, Harrison Ford, Cara Gee
Synopsis:
Buck is a big-hearted dog whose blissful domestic life gets turned upside down when he is suddenly uprooted from his California home and transplanted to the exotic wilds of the Alaskan Yukon in the 1890s. As the newest rookie on a mail-delivery dog sled team, Buck experiences the adventure of a lifetime as he ultimately finds his true place in the world.
View Trailer Official Website Book now

The Call of the Wild plays like the kind of live-action movie Disney released in the '60s and '70s (Swiss Family Robinson, The Castaway Cowboy), then in the '80s and '90s (Six Days, Seven Nights, The Horse Whisperer) under the Touchstone banner. This film, adapted from the Jack London novel of the same name, was developed as a 20th Century Fox project, before the studio got scooped up by the Mouse House.
Directed by Chris Sanders and starring Harrison Ford, the playful-yet-nostalgic tone is established early on. We meet a dog named Buck, the live-action/CGI hybrid lead of the story, as he bounds about a luxurious California home. His owner, Judge Miller (Bradley Whitford, always a welcome sight), loves the pet but is tired of his hyperactive shenanigans. Buck eats up a celebratory feast because he just can't help himself, the rascal! He appears to be a creature destined for bigger things. If those last two sentences read a bit cheesy, consider it a fair approximation of the film itself. Which is to say, it's a very traditional family picture.
Click here to read the full review
© The Film Stage