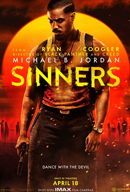 Director: Adam Robitel
Cast: Taylor Russell, Logan Miller, Jay Ellis
Synopsis:
Six adventurous strangers travel to a mysterious building to experience the escape room -- a game where players compete to solve a series of puzzles to win $10,000. What starts out as seemingly innocent fun soon turns into a living nightmare as the four men and two women discover each room is an elaborate trap that's part of a sadistic game of life or death.
View Trailer Official Website Book now

"Escape Room" filmmaker Adam Robitel has carved out a funny little niche for himself as the director of the first wide-release movie of the new year, two years running. Robitel rang in 2018 with "Insidious: The Last Key," a functional but forgettable shocker in the "Insidious" franchise. Which was, in retrospect, perfectly fitting for a disturbing year, one that we somehow managed to collectively get through but which many of us would prefer never to talk about again. Maybe he was onto something.
Here's the good news: "Escape Room," Robitel's latest New Year's gift to the world, is a definite improvement. This gimmicky William Castle-inspired thriller is 10 pounds of silly in a five-pound bag, but you know that going in. It's a movie about escape rooms that literally kill you, and if you're willing to buy into that premise, it's about as good as a movie with that premise could probably be. So, hey, 2019 is looking up.
Click here to read the full review
© The Wrap