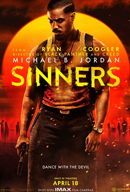 Director: Steven Caple Jr.
Cast: Michael B. Jordan, Sylvester Stallone, Tessa Thompson
Synopsis:
Life has become a balancing act for Adonis Creed. Between personal obligations and training for his next big fight, he is up against the challenge of his life. Facing an opponent with ties to his family's past only intensifies his impending battle in the ring. Rocky Balboa is there by his side through it all and, together, Rocky and Adonis will confront their shared legacy, question what's worth fighting for, and discover that nothing's more important than family. Creed II is about going back to basics to rediscover what made you a champion in the first place, and remembering that, no matter where you go, you can't escape your history.
View Trailer Official Website Book now

Creed II' affirms two great truths of our pop-cultural moment: that Michael B. Jordan is currently the ascendant American male movie star and that the revived, revised "Rocky" franchise - focused on the trials and triumphs of Adonis Creed, Rocky Balboa's protégé and the son of his long-departed friend and rival — is the only heroic Hollywood multisequel narrative worth caring about.
A few years ago, before "Creed," both of those assertions might have sounded ridiculous, but Jordan's charisma in the title role, Ryan Coogler's directing chops and Sylvester Stallone's audience-pleasing instincts turned out to be a revolutionary combination. Tessa Thompson's blend of regal self-possession and emotional directness as Adonis's girlfriend, a musician named Bianca, didn't hurt either. The first "Creed" remade the first "Rocky" — a scrappy '70s white-backlash melodrama — as a fable of black excellence and embattled masculinity for the 21st century, and immediately joined it in the pantheon of fistic film classics.
Click here to read the full review
© New York Times