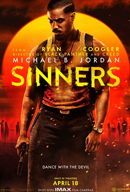 Director: Quentin Tarantino
Cast: Leonardo DiCaprio, Brad Pitt, Margot Robbie
Synopsis:
Quentin Tarantino's Once Upon a Time in Hollywood visits 1969 Los Angeles where everything is changing. Rick Dalton (Leonardo DiCaprio), a fading star of television Westerns, and Cliff Booth (Brad Pitt), his long-time stunt double, make their way around an industry they hardly recognise anymore as they attempt to revive their careers. This comedy drama features a large ensemble cast and multiple storylines in tribute to the end of Hollywood's golden age.
View Trailer Official Website Book now

Wistful, funny and complicated in interesting ways, Quentin Tarantino's new movie, Once Upon a Time… In Hollywood, may be his warmest film since Jackie Brown - which may not be what you expected to hear about a movie set against the background of the 1969 Manson murders.
There's always something going on her to tickle the eye and brain: Attention-grabbing compositions, riffs on imaginary '60s TV programs and movies -- an Italian Bond knock-off, Westerns both of the Spaghetti and New-Hollywood variety. The story moves in slow-hang periods and abrupt time jumps, with unpredictable bits of voice-over, a soundtrack wallpapered with '60s pop and allusions to innumerable other films, including some to Tarantino's own work. 
Click here to read the full review
© Original Cin