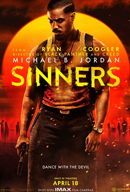 Director: Colin Trevorrow
Cast: Bryce Dallas Howard, Dichen Lachman, Chris Pratt, Sam Neill
Synopsis:
Four years after the destruction of Isla Nublar, dinosaurs now live--and hunt--alongside humans all over the world. This fragile balance will reshape the future and determine, once and for all, whether human beings are to remain the apex predators on a planet they now share with history's most fearsome creatures.
View Trailer Official Website Book now

The Jurassic films – that is, the three Jurassic Parks and the three Jurassic Worlds – are all about people knitting together DNA from different species, and the makers of Jurassic World Dominion have done some gene-splicing of their own. They have taken the heroes from the current trilogy, Owen (Chris Pratt) and Claire (Bryce Dallas Howard), and mixed in our old friends from the original trilogy, Alan (Sam Neill), Ellie (Laura Dern) and Ian (Jeff Goldblum). They have also taken all the usual scenes of dinosaurs sneaking around jungles, and combined them with shoot-outs, plane crashes, motorbike chases through exotic cities, and undercover missions in high-tech secret bases.
In other words, the sixth and supposedly final Jurassic film has been souped up with the genes of James Bond, Jason Bourne and other such globe-trotting adventurers. Indiana Jones's DNA is particularly dominant. In one scene, Alan is in a rocky tunnel, brandishing a flaming torch, and he risks being eaten by a dinosaur because he wants to retrieve his trusty hat. I wouldn't be surprised if 50 pages of the screenplay were ripped straight from a dusty unused script called "Indiana Jones and the Land that Time Forgot".
Click here to read the full review
© BBC