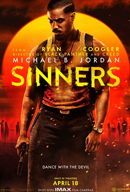 Director: Ryan Coogler
Cast: Angela Bassett, Tenoch Huerta, Martin Freeman, Danai Gurira
Synopsis:
Queen Ramonda, Shuri, M'Baku, Okoye and the Dora Milaje fight to protect the kingdom of Wakanda from intervening world powers in the wake of King T'Challa's death. As the Wakandans strive to embrace their next chapter, the heroes must band together with the help of War Dog Nakia and Everett Ross and forge a new path for their nation.
View Trailer Official Website Book now

It's hard to wrap one's head around just what the filmmakers involved in Black Panther: Wakanda Forever had to navigate through. First, there's the emotional toll of losing Chadwick Boseman, whose death reportedly came as a shock to everyone involved. That alone, in a normal situation, would end any direct sequels.
But Black Panther, a real symbol to so many people in the real world, our world, is not a normal situation. Like Black Panther, Chadwick Boseman was also an icon and any talk of just recasting the part is preposterous. (And, as director Ryan Coogler said, was never on the table, at least for him.) So Black Panther, in some form, must continue. Well, that sets up a whole other logistical problem.
Click here to read the full review
© Uproxx