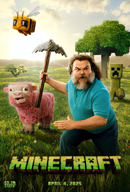 Director: Marc Forster
Cast: Ewan McGregor, Hayley Atwell, Bronte Carmichael
Synopsis:
Christopher Robin -- now a family man living in London -- receives a surprise visit from his old childhood pal, Winnie-the-Pooh. With Christopher's help, Pooh embarks on a journey to find his friends -- Tigger, Eeyore, Owl, Piglet, Rabbit, Kanga and Roo. Once reunited, the lovable bear and the gang travel to the big city to help Christopher rediscover the joy of life.
View Trailer Official Website Book now

As sweet as honey but without the stickiness, "Christopher Robin" is a gentle delight — for children, and for former children. Like "Paddington 2" earlier this year, and like "Mary Poppins" and so many other movies before it, it takes place in a magical version of England.
After a brief prologue in which young Christopher Robin says goodbye to his beloved stuffed animals — he's off to boarding school — we zip away from the original time period of the A.A. Milne Winnie-the-Pooh books, and to a grown-up Christopher (Ewan McGregor), a remote husband and father who's found that life in midcentury London is somewhat more stressful than in the 100 Acre Wood.
Click here to read the full review
© Seattle Times