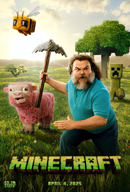 Director: Sean McNamara
Cast: Garry Chalk, Michael Daingerfield, Princess Davis
Synopsis:
It's been 10 years since the creation of the Great Truce, an elaborate joint-species surveillance system designed and monitored by cats and dogs to keep the peace when conflicts arise. But when a tech-savvy villain hacks into wireless networks to use frequencies only heard by cats and dogs, he manipulates them into conflict, and the worldwide battle between cats and dogs is BACK ON. Now, a team of inexperienced and untested agents will have to use their old-school animal instincts to restore order and peace between cats and dogs everywhere.
View Trailer Official Website Book now

This sequel continues what can be a very funny franchise. Cats & Dogs 3: Paws Unite has some sweet human characters to add interest, though they don't provide the laughs. That's up to the animals, played by New Girl's Max Greenfield, The Big Bang Theory's Melissa Rauch, and comedian George Lopez in a hilarious turn as a cockatoo who just needs a little love. Lopez's bird has a memorable scene where's he's posing for the camera to find just the right scary outfit, hat included. The beret doesn't cut it, so he settles on a tiny Superman cape.
The humor isn't consistent in the film, but there are some running animal jokes that are pretty funny, like the fact that "fish don't count" and reptiles once "ruled the world," the cats and dogs playing rock-paper-scissors but never being able to determine whose paw is in what form, or the cat stopping the action regularly for momentary, pre-announced catnaps.
Click here to read the full review
© Common Sense Media