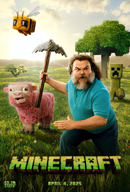 Director: Josh Cooley
Cast: Tom Hanks, Tim Allen, Annie Potts
Synopsis:
Woody, Buzz Lightyear and the rest of the gang embark on a road trip with Bonnie and a new toy named Forky. The adventurous journey turns into an unexpected reunion as Woody's slight detour leads him to his long-lost friend Bo Peep. As Woody and Bo discuss the old days, they soon start to realize that they're worlds apart when it comes to what they want from life as a toy.
View Trailer Official Website Book now

"I Can't Let You Throw Yourself Away," sings Randy Newman, Pixar's bard, in a montage from "Toy Story 4." The song's title is aimed at Woody (Tom Hanks), a friend to his original owner, Andy, and later to Bonnie, a five-year old who inherited Andy's toys at the end of "Toy Story 3" and is shown refining her own playtime rituals that don't always include Woody.
Secondarily, the song is officially aimed at a new character, Forky (Tony Hale), a plastic spork with popsicle-stick feet and pipe cleaner arms that Woody whipped up to console Bonnie during orientation day at kindergarten. Typical of "Toy Story," a series where inanimate objects don't merely have personalities but existential crises, Forky keeps breaking away from Bonnie and Woody and trying to hurl himself into the nearest trash receptacle.
Click here to read the full review
© Roger Ebert