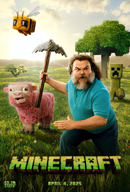 Director: David F. Sandberg
Cast: Zachary Levi, Djimon Hounsou, Michelle Borth
Synopsis:
We all have a superhero inside us, it just takes a bit of magic to bring it out. In Billy Batson's (Asher Angel) case, by shouting out one word - Shazam! - this streetwise 14-year-old foster kid can turn into the adult Super Hero Shazam, courtesy of an ancient wizard. Still a kid at heart - inside a ripped, godlike body - Shazam revels in this adult version of himself by doing what any teen would do with superpowers: have fun with them! Can he fly? Does he have X-ray vision? Can he shoot lightning out of his hands? Can he skip his social studies test? Shazam sets out to test the limits of his abilities with the joyful recklessness of a child. But he'll need to master these powers quickly in order to fight the deadly forces of evil controlled by Dr. Thaddeus Sivana.
View Trailer Official Website Book now

The DC Comics universe has definitely taken to heart the criticism that its movies have been too dark and foreboding. The more lighthearted approach worked beautifully with Wonder Woman and was carried to a wackier level with Aquaman. Now comes their latest effort, based on a relatively little-known comic book character, that proves so determinedly ebullient you begin to think they're pumping laughing gas into the auditorium. The most kid-friendly DC movie so far, Shazam! is thoroughly entertaining.
But much like its central character, a 14-year-old boy able to transform himself into a superhero by uttering the titular incantation, often the pic gives the impression of a kid playing in the adult leagues. Directed by David F. Sandberg, Shazam! is, like so many installments of intended franchises, an origin story. Not only of the title character, but also the villain, Dr. Thaddeus Sivana (Mark Strong), first seen as a little boy being mercilessly bullied by his older brother and domineering father. You can't blame him for taking advantage of the dark powers of the Seven Deadly Sins when he grows up.
Click here to read the full review
© Hollywood Reporter