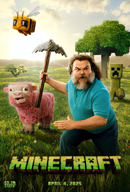 Director: Don Hall, Qui Nguyen
Cast: Jake Gyllenhaal, Jaboukie Young-White, Gabrielle Union
Synopsis:
Strange World 2022 Directed by Don Hall, Qui Nguyen Synopsis Journey to a place where nothing is as it appears! A journey deep into an uncharted and treacherous land, where fantastical creatures await the legendary Clades—a family of explorers whose differences threaten to topple their latest, and by far most crucial, mission.
View Trailer Official Website Book now

Walt Disney Animation Studios has had successful projects over the last few years to add to its longstanding legacy in storytelling. Films like Encanto, which celebrated Colombian culture under a magical landscape and Raya and the Last Dragon, which took on Southeast Asian cultures and mythology, continue to advance the studio's approach to creating diverse stories. Don Hall and Qui Nguyen team up once more to continue this path of original animation after their collaboration on Raya. With Strange World, the duo captures a big adventure fit for an entire family this holiday season. This breathtaking, funny, and heartwarming tale is creativity and sincere storytelling at its finest.
Hall and Nguyen's latest action-packed adventure introduces a legendary family of explorers, the Clades. Jake Gyllenhaal voices Searcher Clade, former explorer-turned-brilliant-farmer who proudly enjoys spending time with his family. His 16-year-old son, Ethan (voiced by Jaboukie Young-White) longs for adventure, but doesn't want to disappoint his father in the process. Rounding out the small family is Gabrielle Union's Meridian, an accomplished pilot and the headstrong woman of the Clade household. When Searcher's plant-based power source begins to give out, the Clade family must race against the clock and venture into unknown territory with Avalonia president Callisto Mal (voiced by Lucy Liu) to determine the cause of its troubles. While in this uncharted region, they all witness a mysterious world full of shocking surprises that will change their lives forever.
Click here to read the full review
© ScreenRant