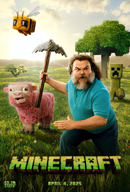 Director: Pierre Coffin, Kyle Balda
Cast: Jenny Slate, Miranda Cosgrove, Kristen Wiig
Synopsis:
The mischievous Minions hope that Gru will return to a life of crime after the new boss of the Anti-Villain League fires him. Instead, Gru decides to remain retired and travel to Freedonia to meet his long-lost twin brother for the first time. The reunited siblings soon find themselves in an uneasy alliance to take down the elusive Balthazar Bratt, a former 1980s child star who seeks revenge against the world.
View Trailer Official Website Book now

Steve Carell doubles your fun in Despicable Me 3 – he not only voices Gru, the bald-pated baddie turned goodie, but Dru, his blond, long-lost twin and a villain-in-training with an even more delightfully bizarre accent. The yellow band of fart-tooting Minions are back (their group sing of Gilbert & Sullivan is not to be missed), as is Kristen Wiig as Gru's wife Lucy Wilde, still trying to bond with his three adopted daughters.
The plot kicks in when the couple are fired by the Anti-Villain League's meanie new boss (Jenny Slate) for failure to apprehend the notorious Balthazar Bratt (hilariously voiced by South Park mischief-maker Trey Parker). Bratt is a former 1980's child star – cue soundtrack bites from Michael Jackson, Van Halen, a-Ha and Madonna – who is out to steal the world's largest diamond unless Gru and Dru can stop him.
Click here to read the full review
© Rolling Stone