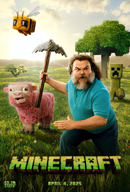 Director: Rich Moore, Phil Johnston
Cast: Sarah Silverman, John C. Reilly, Jack McBrayer
Synopsis:
Video game bad guy Ralph and fellow misfit Vanellope von Schweetz must risk it all by traveling to the World Wide Web in search of a replacement part to save Vanellope's video game, "Sugar Rush." In way over their heads, Ralph and Vanellope rely on the citizens of the internet -- the netizens -- to help navigate their way, including an entrepreneur named Yesss, who is the head algorithm and the heart and soul of trend-making site BuzzzTube.
View Trailer Official Website Book now

"Ralph Breaks the Internet" might look like just another adorable, funny animated family film, but it also connects to our current reality in ways that are downright bone-chilling. This sequel to the 2012 Disney hit "Wreck-It Ralph" — which was set in the virtual world of arcade games, and whose affable lug of a hero was an 8-bit video game villain trying to break free from a lifetime of mindless destruction — sends its protagonists out into the broader internet, where they discover all the pandering, cruelty, addictive behavior and viral shamelessness that we've come to associate with online culture.
The initial reason that Ralph (voiced ably by John C. Reilly) and his best friend, Vanellope (voiced by Sarah Silverman), go online is to find a replacement controller for Sugar Rush, the colorful, candy-and-chocolate-themed racing game in which she competes. But soon enough, they lose their bearings amid the labyrinthine cacophony of the internet, which is depicted by the directors Rich Moore and Phil Johnston as an impossibly busy, multilayered cityscape of brands, emojis and careening message bubbles.
Click here to read the full review
© New York Times