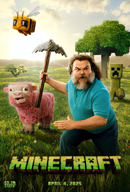 Director: Steven Spielberg
Cast: Hannah John-Kamen, Ben Mendelsohn, Mark Rylance
Synopsis:
From filmmaker Steven Spielberg comes the science fiction action adventure "Ready Player One," based on Ernest Cline's bestseller of the same name, which has become a worldwide phenomenon. The film is set in 2045, with the world on the brink of chaos and collapse. But the people have found salvation in the OASIS, an expansive virtual reality universe created by the brilliant and eccentric James Halliday (Mark Rylance). When Halliday dies, he leaves his immense fortune to the first person to find a digital Easter egg he has hidden somewhere in the OASIS, sparking a contest that grips the entire world.
View Trailer Official Website Book now

A rollicking adventure through worlds both bleak and fantastic, Steven Spielberg's Ready Player One makes big changes to the specifics and structure of Ernest Cline's best-selling novel but keeps the spirit and level-up thrills intact. With Cline as a screenwriter alongside Zak Penn, it's not surprising that while some of the book's dorkier elements are excised — sorry, Rush fans! — their replacements display similar pop-culture obsessiveness while lending themselves more to the cinematic gifts of the man Cline surely dreamed would adapt the book. Gamers are far from the only ones who will respond to this virtual-world-set picture, which strikes an ideal balance between live action and CGI.
The setting is 2045, in the fastest-growing city in the world: Columbus, Ohio. Around the globe, people spend as much of their free time as possible in an online virtual universe called the OASIS, where the focus is as much on living in a fantasy character's skin as on shooting things and keeping score. You can look like Beetlejuice and drive a Batmobile (1960s vintage, please); you can dance in zero gravity with a green-skinned swimsuit model; you can do anything to forget that, beyond your VR goggles, your physical body lives in a slum made of RV trailers stacked perilously high atop each other.
Click here to read the full review
© Hollywood Reporter