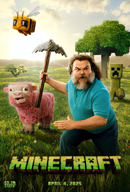 Director: Shane Black
Cast: Robert Downey Jr., Guy Pearce, Gwyneth Paltrow
Synopsis:
Marvel's "Iron Man 3" pits brash-but-brilliant industrialist Tony Stark/Iron Man against an enemy whose reach knows no bounds. When Stark finds his personal world destroyed at his enemy's hands, he embarks on a harrowing quest to find those responsible.

So Phase Two is underway - and in style. After Joss Whedon's benchmark-setting Avengers ensembler, there was always a danger that the next Marvel stand-alone might feel an anti-climax. So perhaps it's just as well that Tony Stark (Robert Downey Jr.), just as he was with 2008's Iron Man, is the one called upon to kick-start this new cycle.
The self-described 'genius, billionaire, playboy, philanthropist' has always been the Marvel Cinematic Universe's life and soul (and mouth); but put him in the hands of incoming director/co-writer Shane Black, and he propels this fourth IM outing like a nuke-fuelled rocket.
Click here to read the full review
© Total Film