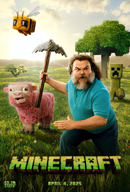 Director: Angus MacLane
Cast: Chris Evans, Keke Palmer, Taika Waititi
Synopsis:
The definitive origin story of Buzz Lightyear, the hero who inspired the toy, Lightyear follows the legendary Space Ranger after he is marooned on a hostile planet 4.2 million light-years from Earth alongside his commander and their crew. As Buzz tries to find a way back home through space and time, he is joined by a group of ambitious recruits and his charming robot companion cat, Sox. Complicating matters and threatening the mission is the arrival of Zurg, an imposing presence with an army of ruthless robots and a mysterious agenda.
View Trailer Official Website Book now

The conflict in Pixar's ageless 1995 breakthrough feature, Toy Story, hinged on the displacement anxiety of old-fashioned pull-string cowboy doll Woody when his young owner Andy acquired a popular new action figure called Buzz Lightyear. The movie named for that Space Ranger, Lightyear, extends the Toy Story franchise by showing us the sci-fi adventure that hooked Andy on the character and inspired the merch.
This is a funny spinoff with suspense and heart, a captivatingly spirited toon take on splashy live-action retro popcorn entertainment. The title character is given splendid voice by Chris Evans, balancing heroism and human fallibility with infectious warmth.
Click here to read the full review
© Hollywood Reporter