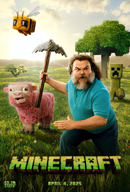 Director: Ruben Fleischer
Cast: Tom Hardy, Michelle Williams, Woody Harrelson
Synopsis:
Journalist Eddie Brock is trying to take down Carlton Drake, the notorious and brilliant founder of the Life Foundation. While investigating one of Drake's experiments, Eddie's body merges with the alien Venom -- leaving him with superhuman strength and power. Twisted, dark and fueled by rage, Venom tries to control the new and dangerous abilities that Eddie finds so intoxicating.
View Trailer Official Website Book now

All is well with Eddie Brock when first we meet the mild-mannered reporter, who takes his investigative duties seriously and relishes speaking truth to power. This is occasionally to the chagrin of his boss, whose latest assignment is of the puff-piece variety: a profile of high-tech entrepreneur Carlton Drake (Riz Ahmed). The genius inventor is of the opinion that human beings are a weak, imperfect species, and so he looks to the stars for an answer to our earthbound woes.
What he finds is something different, of course. The film begins months before Eddie and Venom become one, when a rocket carrying an alien lifeform harvested from a comet and soon to be known as the symbiote crash lands in Malaysia. A parasitic being that imbues its host with superhuman abilities even as it slowly kills them, it's described by Drake — who funded the cosmic expedition and will soon begin testing the entity on human subjects — as something like an organ transplant: If the symbiote and its host aren't a perfect match, the body will reject it and eventually die.
Click here to read the full review
© Indie Wire