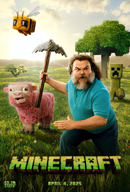 Director: Jon Watts
Cast: Zendaya, Tom Holland, Benedict Cumberbatch, Marisa Tomei
Synopsis:
For the first time in the cinematic history of Spider-Man, our friendly neighborhood hero is unmasked and no longer able to separate his normal life from the high-stakes of being a Super Hero. When he asks for help from Doctor Strange, the stakes become even more dangerous, forcing him to discover what it truly means to be Spider-Man.
View Trailer Official Website Book now

In Tom Holland's third solo outing as Spidey, a Spider-Boy becomes a Spider-Man. You'd figure the Brit had crossed that bridge by now after the death-of-his-mentor pain he endured in "Spider-Man: Far From Home," or his first go-around saving New York from Vulture in "Homecoming."
But it's the gargantuan and deeply satisfying "Spider-Man: No Way Home" in which the former Billy Elliot proves he's more than a teen idol with a perfect American accent. This time, his Peter's got gravitas, emotional oomph, brutality, believable love, an anguished scene in the rain! The movie is the actor's best performance yet, in anything, Spandex or no.
Click here to read the full review
© New York Post