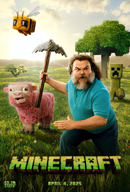 Director: Conrad Vernon, Greg Tiernan
Cast: Oscar Isaac, Charlize Theron, Chloë Grace Moretz
Synopsis:
The Addams Family is back on the big screen in the first animated comedy about the kookiest family on the block. Funny, outlandish, and completely iconic, the Addams Family redefines what it means to be a good neighbour. Oscar Isaac and Charlize Theron lead the spook-tacular cast which also stars Chloe Grace Moretz, Finn Wolfhard, Nick Kroll, and Elsie Fisher, along with Allison Janney and Bette Midler.
View Trailer Official Website Book now

It's hard to reimagine a classic property, yet it's been a theme of 2019. The newest attempt is this charmingly animated adaptation of The Addams Family, which seems like a pretty hard sell after both the iconic TV series and two Barry Sonnenfeld films.
Luckily, by some sort of Halloween miracle, this iteration of the spooky and kooky family is a totally wonderful addition to the popular franchise that both updates it for a new audience whilst balancing that with an impressive grasp of what made the previous iterations so beloved.
Click here to read the full review
© IGN