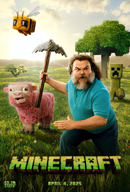 Director: Adrian Molina, Lee Unkrich
Cast: Anthony Gonzalez, Gael García Bernal, Benjamin Bratt
Synopsis:
'Coco' follows the adventures of a 12-year-old boy named Miguel, who finds himself in the Land of the Dead while on a quest to prove his talent as a musician. His family has banned music for generations, but Miguel is determined to defy them and follow in the footsteps of his idol, Ernesto de la Cruz. But when he's magically transported to the vibrant and colourful Land of the Dead, he sets out to discover the true story of his family's history.
View Trailer Official Website Book now

Such a triumph for Pixar. Dazzling visuals along with intricately structured and deeply moving storytelling are the hallmarks of the best of the studio's animated movies. "Coco" has those in spades, which puts it right up there with "Up" and the "Toy Story" trilogy in the topmost ranks of Pixar pictures. Small wonder, considering Lee Unkrich, its co-director (Adrian Molina shares directorial credit), won an Oscar for his direction of "Toy Story 3."
Set in a village in rural Mexico, "Coco" is a celebration of that country's culture, particularly the close connectivity of generations. The title is the name of the great-grandmother of the central character, a high-spirited, music-mad 12-year-old boy named Miguel (voiced by Anthony Gonzalez). Four generations live under the family roof, and the kid is very close to his Mama Coco. Rendered nearly mute by the infirmities of advanced age, she seems a peripheral figure at first. But the fact that the movie is named for her is a key clue to a mystery that is central to the story.
Click here to read the full review
© Seattle Times