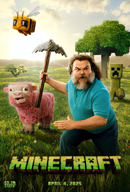 Director: Charles E. Bastien, Keith Chapman
Cast: Justin Paul Kelly, Keegan Hedley, Lukas Engel
Synopsis:
When legendary racer the Whoosh can't compete at the Adventure Bay 500, Marshall and the heroic pups shift into high gear for a new mission.
View Trailer Official Website Book now

In the gang's second big screen adventure, this story makes a handbrake turn and takes a different direction to the TV series. All of the pups, along with the group's leader, Ryder -- arguably a blessing for some parents -- are sidelined, apart from Marshall. Basing Paw Patrol: Ready, Race, Rescue! around just one of the pups is likely to divide younger audiences, depending on how much affection they have for the Dalmatian puppy.
Thankfully Marshall navigates his leading role with ease, offering humor, a contagious enthusiasm, and a few important life lessons along the way. There's also something to be enjoyed from the two villains of the piece -- Cheetah and Mayor Humdinger (Ron Pardo) -- both caricatures of skulduggery, complete with mustache twirling and cackling.
Click here to read the full review
© Common Sense Media