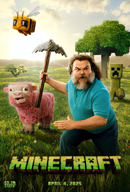 Director: Scott Beck & Bryan Woods
Cast: Adam Driver, Ariana Greenblatt, Chloe Coleman
Synopsis:
After a catastrophic crash on an unknown planet, pilot Mills quickly discovers he's actually stranded on Earth.65 million years ago. Now, with only one chance at rescue, Mills and the only other survivor, Koa, must make their way across an unknown terrain riddled with dangerous prehistoric creatures in an epic fight to survive.
View Trailer Official Website Book now

Adam Driver gives the type of performance almost never associated with an action film in 65, a highly efficient thriller from the writers of A Quiet Place. There's a lot in here which is familiar, as Scott Beck and Bryan Woods – who also direct – mix dinosaurs with space travel while also adding the father/daughter narrative which is currently ruling the airwaves in The Last Of Us (and also has a mother/daughter space antecedent in Aliens). We've seen the bones of this creature before, for sure, but some terrific GGI monsters, swampy scares and Driver's committed performance make 65 a snap-toothed popcorn multiplex movie which, at 93 minutes, is sprightly in comparison with its lumbering rivals.
As Commander Mills, a space pilot from a time before mankind existed, Driver has no superpowers – just some cool Star Trek-like gadgetry and a good gun – when his ship crashes on an unknown planet, ahem, 65 million years ago. For those who haven't figured out the footprints yet, an errant meteor has brought him down to Earth. Dinosaur fans (of which there are so, so many) will be delighted to see that the monsters he's about to encounter are the best-rendered and most sweatily-scary yet, even as his path to survival encounters some highly-familiar terrain.
Click here to read the full review
© Screen Daily