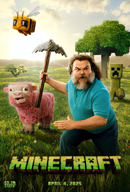 Director: Shawn Levy
Cast: Ryan Reynolds, Jodie Comer, Taika Waititi
Synopsis:
In Twentieth Century Studios' epic adventure-comedy "Free Guy," a bank teller who discovers he is actually a background player in an open-world video game, decides to become the hero of his own story... one he rewrites himself. Now in a world where there are no limits, he is determined to be the guy who saves his world his way... before it is too late.
View Trailer Official Website Book now

If the internet is to be believed, the first teaser for Free Guy premiered in October 2019 as part of that year's New York Comic Con celebration. Many, many things have happened between now and then, but the marketing for the film has endured, offering us a Ryan Reynolds-shaped rainbow at the end of our global pandemic. Now, for better or worse, Free Guy is finally playing (only) in theatres this weekend – and somehow this oft-delayed comedy about video games has earned its spot as the best summer movie of 2021.
As a non-player character in the popular sandbox game Free City, Guy (Reynolds) is an artificial intelligence who values his routine. But when an encounter with renegade gamer Molotov Girl (Comer) interrupts his meticulous programming, Guy begins to experience the world around him through the eyes of a player for the very first time. With the help of his best friend Buddy (Howery) – and a little manipulation from game designer Walter McKeys (Keery) – Guy sets out on a mission to change the world around him for the better and win the heart of the woman he loves.
Click here to read the full review
© Austin Chronicle