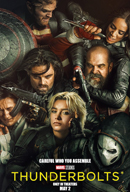 Director: Mike Mitchell
Cast: Chris Pratt, Elizabeth Banks, Will Arnett
Synopsis:
The much-anticipated sequel to the critically acclaimed, global box office phenomenon that started it all, "The LEGO® Movie 2: The Second Part," reunites the heroes of Bricksburg in an all new action-packed adventure to save their beloved city. It's been five years since everything was awesome and the citizens are facing a huge new threat: LEGO DUPLO® invaders from outer space, wrecking everything faster than they can rebuild. The battle to defeat them and restore harmony to the LEGO universe will take Emmet, Lucy, Batman and their friends to faraway, unexplored worlds, including a strange galaxy where everything is a musical. It will test their courage, creativity and Master Building skills, and reveal just how special they really are.
View Trailer Official Website Book now

We all owe Kathleen Kennedy a huge thank you: When Chris Miller and Phil Lord were very famously fired from "Solo: A Star Wars Story," they reinvested their time into "Spider-Man: Into the Spider-verse" and "The Lego Movie 2: The Second Part." And it shows.
With "The Lego Movie 2," the Oscar-nominated writer-producer duo are joined by director Mike Mitchell ("Trolls") and animation director Trisha Gum ("The Lego Batman Movie," "Robot Chicken") to create a film that expands on the original's premise, adding new worlds and characters to the growing Lego universe, while also crafting a story that is timely, inventive, hilarious and perfect for all ages.
Click here to read the full review
© The Wrap