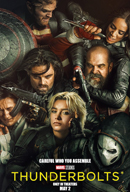 Director: Michael Chaves
Cast: Taissa Farmiga, Bonnie Aarons, Anna Popplewell
Synopsis:
A follow-up to the enigmatic gothic horror about a strong evil that haunts and causes supernatural harm to everybody it comes into contact with. After the events of the first film, the said powerful evil now begins to spread in 1956 throughout a town in France as word gets out that a priest has been violently murdered. A finished contemplative in her novitiate, Sister Irene, begins to investigate the murder, only to find a demon behind it -- the same evil that terrorized her in the original film as a nun -- Valak, whom she once again soon comes to encounter.
View Trailer Official Website Book now

Eight movies in, you might expect a franchise to start getting stale, but The Conjuring is the most successful horror franchise to date — having grossed a combined $2.1 billion dollars at the box office — and The Nun II is here to double down on everything that keeps genre lovers coming back to these films over and over.
A direct sequel to The Nun, this film picks up five years later, finding Sister Irene (Taissa Farmiga) at a new convent in France, having effectively escaped the demon Valak (Bonnie Aarons) assuming she'd sent it back to hell. However, when key figures of the church start mysteriously dying, it appears that the demon has returned. When a Cardinal calls upon Irene as the only surviving member of the church capable of defeating such an evil, she's thrust back into a life she thought she'd escaped.
Click here to read the full review
© Collider