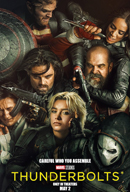 Director: Jon Turteltaub
Cast: Jason Statham, Bingbing Li, Rainn Wilson
Synopsis:
A massive creature attacks a deep-sea submersible, leaving it disabled and trapping the crew at the bottom of the Pacific Ocean. With time running out, rescue diver Jonas Taylor must save the crew and the ocean itself from an unimaginable threat -- a 75-foot-long prehistoric shark known as the Megalodon.
View Trailer Official Website Book now

When the ink has dried on the early 21st century, historians will probably look back and say, "Wow, people loved sharks" and "Wow, people also loved Jason Statham punching things." Fortunately, those historians will have films like Jon Turteltaub's The Meg to explain why we love them both. It's a fun giant killer shark movie, and a solid Jason Statham action romp.
The Meg stars Jason Statham as Jonas Taylor, a deep sea rescue expert called out of retirement to rescue his ex-wife from a unique underwater disaster. She's trapped at the bottom of the Marianas Trench which, it turns out, was deeper than anyone ever realized. And what's worse, she's being attacked by a giant prehistoric shark called a Megalodon.
Click here to read the full review
© IGN