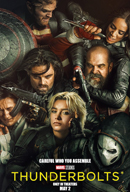 Director: Kyle Balda
Cast: Steve Carell, Taraji P. Henson, Michelle Yeoh
Synopsis:
This summer, from the biggest global animated franchise in history, comes the origin story of how the world's greatest supervillain first met his iconic Minions, forged cinema's most despicable crew and faced off against the most unstoppable criminal force ever assembled in Minions: The Rise of Gru. Long before he becomes the master of evil, Gru (Oscar® nominee Steve Carell) is just a 12-year-old boy in 1970s suburbia, plotting to take over the world from his basement. It's not going particularly well. When Gru crosses paths with the Minions, including Kevin, Stuart, Bob, and Otto—a new Minion sporting braces and a desperate need to please—this unexpected family joins forces. Together, they build their first lair, design their first weapons, and strive to execute their first missions.
View Trailer Official Website Book now

What does it take to become a world-renowned supervillain? Minions: The Rise of Gru, Illumination's latest installment in the Despicable Me franchise out this Friday, explores this question and more as it traces the origin story of everyone's favorite power-hungry supervillain, Gru (Steve Carell). Set in the 1970s, Minions: The Rise of Gru situates itself in between Minions and Despicable Me timeline-wise.
The Minions, including Kevin, Stuart, Bob, and a new braces-clad Minion named Otto (Pierre Coffin) have just answered Gru's wanted ad and are now helping their mini-boss build his first basement lair, design his first set of super weapons, and carry out his very first super scheme. Gru, though, he's ready for the big time. He's ready to join the Vicious 6, a notorious supervillain supergroup, and he's fairly certain that's a leap he's got to make on his own — without the Minions' help.
Click here to read the full review
© Collider