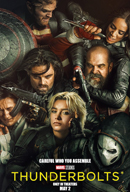 Director: James Mangold
Cast: Christian Bale, Matt Damon, Caitriona Balfe
Synopsis:
American automotive designer Carroll Shelby and fearless British race car driver Ken Miles battle corporate interference, the laws of physics and their own personal demons to build a revolutionary vehicle for the Ford Motor Co. Together, they plan to compete against the race cars of Enzo Ferrari at the 24 Hours of Le Mans in France in 1966.
View Trailer Official Website Book now

A barnburner of a motion picture that mainlines heart-in-mouth excitement and tug-at-the-heart emotion, "Ford v Ferrari" is made the way Hollywood used to make them, a glorious throwback that combines a smart modern sensibility with the best of traditional storytelling.
As can be guessed by the title, this is a film about fast cars and the men who want to make them faster. But "Ford v Ferrari" has virtues well beyond immersive racing footage, offering humor, passion, strong personalities and stronger conflicts plus sterling acting by stars Matt Damon and Christian Bale and a tip-top supporting cast.
Click here to read the full review
© Los Angeles Times