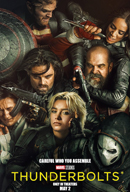 Director: David Kerr
Cast: Olga Kurylenko, Emma Thompson, Rowan Atkinson
Synopsis:
The new adventure begins when a cyberattack reveals the identities of all active undercover agents in Britain, leaving Johnny English as the secret service's last hope. Called out of retirement, English dives headfirst into action with the mission to find the mastermind hacker. As a man with few skills and analogue methods, Johnny English must overcome the challenges of modern technology to make this mission a success.
View Trailer Official Website Book now

It's traditional now to look for Brexit significances in any new film with a British slant and that does seem applicable to this revival of the Johnny English action-comedy spoof franchise – which started back in 2003 with Johnny English and spluttered back to life in 2011 with Johnny English Reborn. Will tongue-in-cheek self-satire on the subject of how obviously rubbish we are be the nation's new export opportunity?
At any rate, the pop-eyed, rubber-faced incompetent Johnny English has had his licence to cock things up renewed for the second time – that name of his signalling more than anything else that he is a broad comic creation designed for non-English-speaking cinemagoing territories.
Click here to read the full review
© The Guardian