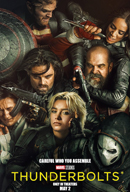 Director: Andrés Muschietti
Cast: Bill Skarsgård, Jaeden Lieberher, Finn Wolfhard
Synopsis:
When children begin to disappear in the town of Derry, Maine, neighborhood kids band together to square off against Pennywise, an evil clown whose history of murder and violence dates back for centuries.
View Trailer Official Website Book now

The rebooted "It" earns the highest compliment for a horror movie: Even if it didn't have the homicidal clown and sink spewing blood and missing children getting yanked into sewers, what remains would still be an engaging movie. It's smart and funny and makes great effort to capture not just a time and place, but the specific feelings of being on the verge of adulthood and thinking the world is against you.
There are questionable structural differences between this film and Stephen King's literary source material, that will be particularly noticeable to fans of the 1990 television miniseries. Cynical viewers have ammunition to argue that these differences were driven by potential profit, not art. But the end result — even with a bait-and-switch ending — is still remarkable. Like very few mainstream films in the past year and a half, "It" is worthy of the anticipation and hype.
Click here to read the full review
© San Francisco Chronicle