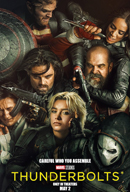 Director: Matthew Warchus
Cast: Emma Thompson, Andrea Riseborough, Stephen Graham
Synopsis:
Matilda Wormwood (Alisha Weir) is a little girl with big curiosity, a sharp mind and a vivid imagination - and the worst parents in the world. While her parents (Stephen Graham and Andrea Riseborough) content themselves with trashy TV and dodgy money-making schemes, she loves to lose herself in the pages of her beloved books. Where they are loud, selfish and unkind she is a quiet observer, thinking up small and cheeky acts of rebellion and revenge. On meeting her inspirational teacher, Miss Honey (Lashana Lynch), Matilda is encouraged and begins conjuring her own fantastical tales. Excited to attend Crunchem Hall, Matilda is surprised to find the school is an ominous and oppressive place led by the huge and villainous Miss Trunchbull (Emma Thompson).
View Trailer Official Website Book now

A mistake made by far too many musical adaptations is thinking that a cinema screen is simply a stage with a frame around it. Films from Everybody's Talking About Jamie to Cats have turned hit stage musicals into thin, flat films by failing to consider their different demands – their need for more plot and more action. Matilda, as befits a story of a very clever little girl, is smarter than that. The team of Matthew Warchus (director), Dennis Kelly (writer) and Tim Minchin (composer and lyricist) have rethought, tweaked and stretched their mega-hit stage musical and turned it into a movie that's a tremendously badly-behaved delight.
Matilda (Alisha Weir) is born to parents (Stephen Graham and Andrea Riseborough) who hate her. While they're as thick as they are loud, she's somehow a tiny genius who reads Dostoyevsky for fun despite never going to school. When Matilda is eventually sent to school, it's something more akin to a prison, run by the fearsome Miss Trunchbull (Emma Thompson). Matilda's only escape from her horrible life is her love of stories and the friendship of her teacher, Miss Honey (No Time to Die's Lashana Lynch, giving the usually limp character a little backbone). With everyone around her acting horribly, Matilda decides it's time to put things right, even if it means being a little bit naughty.
Click here to read the full review
© Timeout