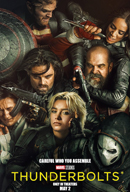 Director: David F. Sandberg
Cast: Lucy Liu, Rachel Zegler, Adam Brody, Zachary Levi
Synopsis:
From New Line Cinema comes "Shazam! Fury of the Gods," which continues the story of teenage Billy Batson who, upon reciting the magic word "SHAZAM!," is transformed into his adult Super Hero alter ego, Shazam.
View Trailer Official Website Book now

More than most superhero films of its era, 2019's "Shazam" truly feels like a live-action comic book. It's bright, ludicrous, fun, and embraces a decided lack of gritty realism. Unlike so many superhero outings of its era, it doesn't celebrate soldiers, spies, deities by birth, or inventors, but instead centers the central question "what if good but underprivileged foster kids gained the powers of the gods?" It's an excellent premise that the first film successfully milks for both comedic and dramatic purposes.
In the sequel "Shazam! Fury of the Gods," the stakes, of course, are raised even higher. We first meet a Shazam (Zachary Levi) at a crisis. Try as they might, the Shazam Family's super heroics continually sour their reputation with amateur-hour mistakes, and he doesn't know how to lead them. At the same time, he's worried about his foster family falling apart, with Billy Batson (Asher Angel) nearing adulthood while his foster family increasingly pursues their own independence. Enter the Daughters of Atlas, Hespera (Helen Mirren), Kalypso (Lucy Liu), and Anthea (Rachel Zegler), ancient goddesses who seek to avenge their fallen father, conquer the Earth for the gods, and take the powers of said gods back from their accidental thieves: the Shazam Family.
Click here to read the full review
© Slash Film