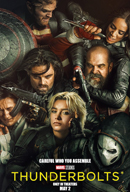 Director: James Wan
Cast: Amber Heard, Jason Momoa, Nicole Kidman
Synopsis:
Arthur Curry, the 'Aquaman', is the heir to the throne of the underwater city of Atlantis. Now, he's forced to step forward and become the hero he's meant to be. Caught between the surface world and the undersea kingdom, he's forced to grapple with his own mixed feelings about wearing the crown, and a new threat that's beginning to emerge. Contains moderate violence and scenes of sustained threat.
View Trailer Official Website Book now

After decades of getting treated like a pop culture punchline, thanks almost entirely to "Super Friends" (with a little help from "Entourage"), Aquaman finally has his own feature film. It's a weird and wonderful superhero adventure that strives — and almost succeeds — to be the most epic superhero movie ever made.
Directed by James Wan ("Furious 7"), "Aquaman" ventures from a neon, "Tron"-inspired Atlantis to ancient ruins straight out of "Indiana Jones," and then into a nightmare realm of evil swarming fish monsters. It features gigantic battles between innocent crab people and bad guys riding armored sharks. At one point, a DayGlo rave octopus plays the drums while Aquaman fights for the throne of Atlantis in an underwater gladiator arena called "The Ring of Fire."
Click here to read the full review
© The Wrap