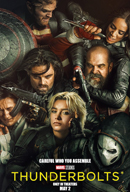 Director: Andy Muschietti
Cast: Jessica Chastain, James McAvoy, Bill Hader
Synopsis:
The follow-up continues the adaptation of the Stephen King book, this time picking up with the Losers Club 27 years later, when they're all now adults and must return to Derry to thwart Pennywise once again. Director Andy Muschietti returns and he assembled a top-notch ensemble that consists of James McAvoy as Bill Denbrough, Jessica Chastain as Beverly Marsh and Bill Skarsgard returning as Pennywise/It. 
View Trailer Official Website Book now

It Chapter One, or whatever we must call it since it made enough millions to birth a chapter two, had its crutches. This was an adaptation of (half of) a beloved book, following in the footsteps of a so-so yet affectionately remembered TV movie, leaning heavily into the never-ending wave of 1980s nostalgia. It all seemed a littlesafe, never completely its own entity.
Yet it overcame this. As Amblin-lite as it was, It starred a winning cast of kids and went to town with classic Stephen Kingexplorations of domestic trauma. And while never totally terrifying, it boasted a boogeyman for the ages, Bill Skarsgård wearing Pennywise like a second skin. A horror with heart, It stormed the cinema gates, and the novel's second timeline, featuring the Losers grown up and back on the clown-conquering beat, was aggressively greenlit. And now, director Andy Muschietti's shackles are off.
Click here to read the full review
© Empire