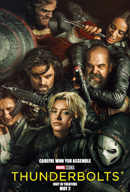 Director: Tim Burton
Cast: Eva Green, Colin Farrell, Michael Keaton
Synopsis:
Disney's new live-action feature film 'Dumbo' introduces Holt Farrier, a former circus star who finds his life turned upside down when he returns from the war. Circus owner Max Medici enlists Holt to care for a newborn elephant whose oversized ears make him a laughing stock in an already struggling circus. But when Holt's children discover that Dumbo can fly, persuasive entrepreneur V.A. Vandevere (Keaton) and an aerial artist named Colette Marchant swoop in to make the peculiar pachyderm a star.
View Trailer Official Website Book now

Tim Burton's remake of "Dumbo" -- a live-action and CGI version of Disney's 1941 classic about a flying baby elephant -- is more an expansion of the original than simply a souped-up retread. For one thing, it's nearly twice as long as the earlier, sweet-but-slight film, which was itself inspired by a mere handful of unpublished sketches made for a scrolling picture-book series called "roll-a-books."
For another, the new story is decidedly, deliciously dark, veined with thin layers of Burton's trademark macabre sensibility, which adds texture and tartness to the inherent charm of the story (at heart, one about the parent-child bond and the possibility of the impossible). Working from a new screenplay by Ehren Kruger, who wrote the first two American "Ring" films and other creepy tales, Burton has made a movie that does Disney proud, honoring the simple appeal of the source material while finding new emotional resonance in the narrative.
Click here to read the full review
© Nola