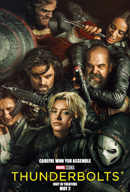 Director: Robert Zemeckis
Cast: Bob Hoskins, Christopher Lloyd, Joanna Cassidy
Synopsis:
Down-on-his-luck private eye Eddie Valiant (Bob Hoskins) gets hired by cartoon producer R.K. Maroon (Alan Tilvern) to investigate an adultery scandal involving Jessica Rabbit (Kathleen Turner), the sultry wife of Maroon's biggest star, Roger Rabbit (Charles Fleischer). But when Marvin Acme (Stubby Kaye), Jessica's alleged paramour and the owner of Toontown, is found murdered, the villainous Judge Doom (Christopher Lloyd) vows to catch and destroy Roger.
View Trailer Official Website Book now

I stopped off at a hot dog stand before the screening of "Who Framed Roger Rabbit," and ran into a couple of the other local movie critics. They said they were going to the same screening. I asked them what they'd heard about the film. They said they were going to see it for the second time in two days. That's the kind of word of mouth money can't buy.
And "Who Framed Roger Rabbit" is the kind of movie that gets made once in a blue moon, because it represents an immense challenge to the filmmakers: They have to make a good movie while inventing new technology at the same time.
Click here to read the full review
© Roger Ebert