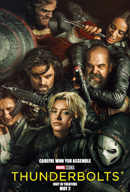 Director: Zack Snyder
Cast: Ben Affleck, Gal Gadot, Jason Momoa
Synopsis:
Fueled by his restored faith in humanity and inspired by Superman's (Henry Cavill) selfless act, Bruce Wayne (Ben Affleck) enlists newfound ally Diana Prince to face an even greater threat. Together, Batman and Wonder Woman work quickly to recruit a team to stand against this newly awakened enemy. Despite the formation of an unprecedented league of heroes -- Batman, Wonder Woman, Aquaman, Cyborg and the Flash -- it may be too late to save the planet from an assault of catastrophic proportions.
View Trailer Official Website Book now

Boy, they sure do have a lot of coveted orbs and ancient cubes and magical stones in the superhero universes. Often these glowing objects have been tucked away for millenniums, lest they fall into the wrong clutches of the obligatory fire-eyed entity that talks with a deep, mechanical voice and rages on about destroying all the planets, because that's what those guys aspire to do.
In "Justice League," the MacGuffins are known as Mother Boxes, and there are three of them: one hidden in the deepest depths of the sea; one under heavy guard on Themyscira aka Paradise Island aka the home of the Amazons, and one buried by man. By the looks of it, man did the worst job of hiding a Mother Box, seeing as how a couple of old-timey Viking types apparently dug a six-foot hole and covered the Box with dirt. We need a reason for Bruce Wayne/Batman (Ben Affleck) to recruit a new team of warriors, and the reason is a giant, evil creature named Steppenwolf (a not particularly memorable CGI villain voiced by the great Ciaran Hinds) has come to Earth to retrieve the Mother Boxes and impress his own mommy and, oh yes, destroy all worlds as we know them.
Click here to read the full review
© Chicago Sun Times