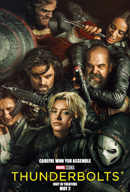 Director: Ryan Coogler
Cast: Chadwick Boseman, Michael B. Jordan, Lupita Nyong'o
Synopsis:
Welcome to Wakanda, the homeland of the 'Black Panther'. An isolated, technologically advanced African nation, it's a modern El Dorado – and now, T'Challa must defend it from an old enemy. After his father's death, he has become King of Wakanda and the new Black Panther. And his mettle will be tested by the arrival of Erik Killmonger and Ulysses Klaue, who want to overthrow him for their own gain. The breakout star of 'Captain America: Civil War' finally gets a solo outing in 'Black Panther', with a cast including Chadwick Boseman, Michael B. Jordan and Lupita Nyong'o.
View Trailer Official Website Book now

"Black Panther," an adaptation of the iconic comic book that has been decades in coming, proves to be more than worth the wait. This lush, impressively well-acted film, about an African king learning how best to marshal the superpowers with which he's been endowed, comes draped in anticipation, not only from hardcore fans of the source material, but filmgoers already steeped in breathless hype. Director Ryan Coogler, working with a script he co-wrote with Joe Robert Cole, doesn't just meet but exceeds those expectations, delivering a film that fulfills the most rote demands of superhero spectacle, yet does so with style and subtexts that feel bracingly, joyfully groundbreaking.
Chadwick Boseman, until now best known for channeling the likes of Jackie Robinson, James Brown and Thurgood Marshall, comes masterfully into his own here as T'Challa, crown prince of the mystical kingdom of Wakanda, who assumes the throne when his father is killed while giving a speech at the United Nations. After an elaborate initiation ritual, T'Challa is tasked with hunting down an evil arms merchant named Ulysses Klaue (Andy Serkis), who has stolen a Wakandan artifact made of the precious metal vibranium. Outfitted with adhesive footwear, a fearsome feline mask and a suit that can absorb and redirect power, invented by his techno-genius sister Shuri (Letitia Wright), T'Challa sets off for South Korea with his allies, General Okoye (Danai Gurira) and Nakia (Lupita Nyong'o), an accomplished operative who also happens to be T'Challa's ex-girlfriend.
Click here to read the full review
© Washington Post